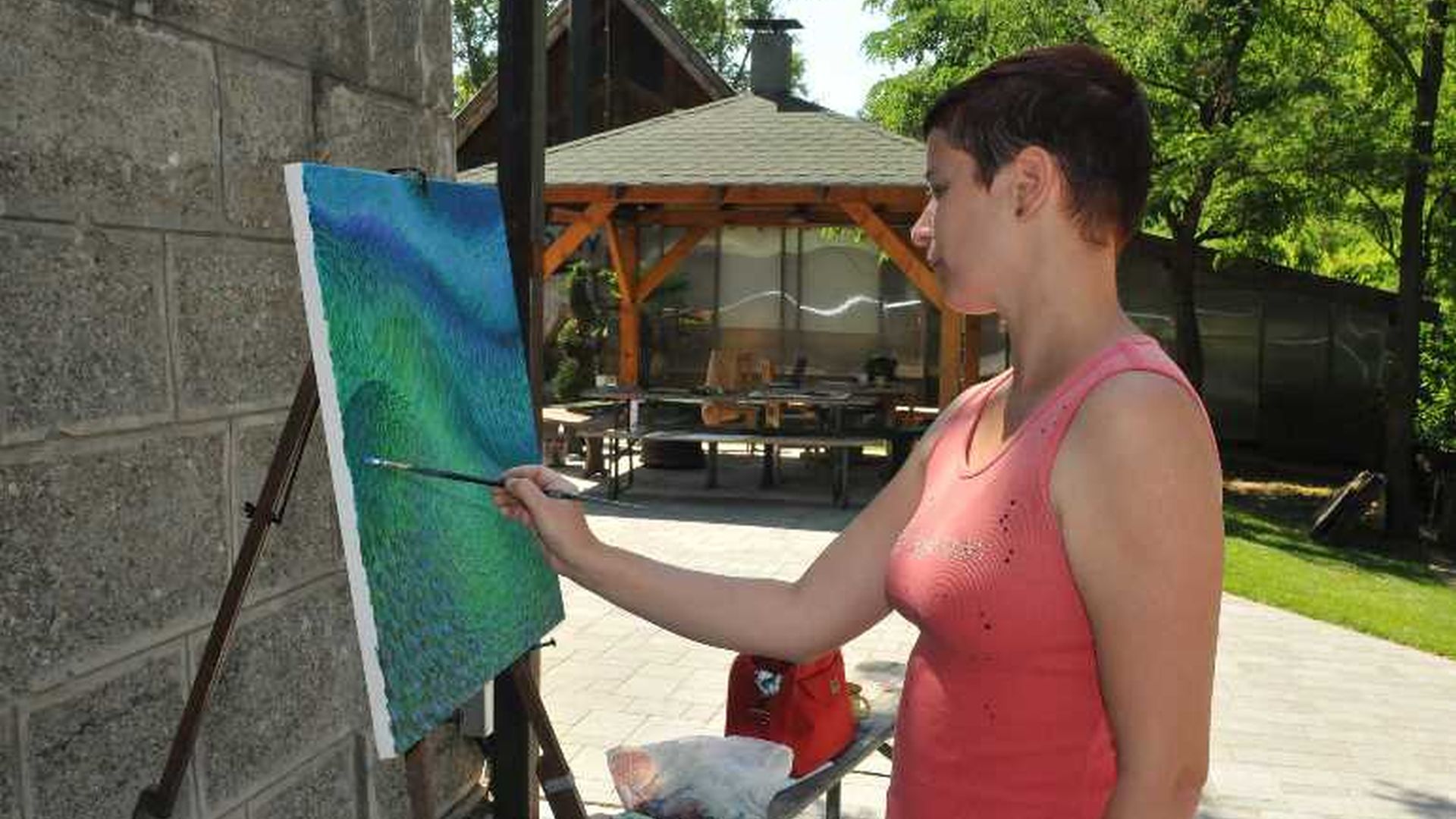 Art Flexum International Art Society, Mosonmagyaróvár
Szentkuti Károly, president, leader of the Symposium, H-9200
Address: Mosonmagyaróvár, Fő út 19.
+36-96-212 094
szentkuti@freemail.hu
Art Flexum International Symposium
The Mosonmagyaróvár symposium was founded by the director of the Hansági Museum, Károly Szentkuti in 1997 along with the local and county artists.
In 2003 The Art Flexum Art International Art Society was formed, with the basic tasks of organising the symposium, taking care of the collection and dissipating the results of the operation of the symposium. The group founded a prize to be awarded to the best artist at the symposium, who would then be invited to hold and individual exhibition in the following year as a part of the symposium opening ceremony.
Apart from this the Society plays an important role in enlivening the artistic life of the town and in defining its quality, which in 2016 was recognised with the awarding of the County Prima Prize. Each year many individual and group exhibitions are organised in Mosonmagyaróvár, as well as throughout the country and the neighbouring towns in Slovakia. One of the largest, apart from their own group exhibitions, is the presentation of new works of the Győr-Moson-Sopron County artists in the Winter Exhibition, which is held in Mosonmagyaróvár and the other is the exhibition of works from the symposium collection which tours to other towns far afield in the country as well as abroad (for example in Tata, Dunajská Streda, Hajdúböszörmény, etc.)
The Art Flexum International Symposium operates for ten days each July. 8-12 artists are invited from Mosonmagyaróvár, other Hungarian towns and from abroad. Artists have arrived from Ẑritnỷ ostrov, and Romania, from Austria, Germany and many other European countries, as well as from Iran.
The important aim of the annual symposium is to heighten the artistic level in Mosonmagyaróvár and to form relationships between renowned artists from Hungary and abroad.
Until 2012 the town council also supported the Art Flexum International Symposium. Its headquarters was the Hansági Museum, whilst the studio space was provided by the local Piarist High School and the accommodation provided in the school's dormitories. In 2013 the council withdrew its support and in 2014 the symposium moved to Rajka, whilst from 2015 it has been organised in two nearby villages with 6 artists working in Hédervár and another 6 working in Rajka.
The symposium was led by Péter Matusz from 1997 until 2000, by György Varga from 2000-2010 and since then by Károly Szentkuti. Its collection was cared for by the Hansági Museum for 15 years, whilst today it forms a part of the collection of the Contemporary Hungarian Art Gallery in Dunajská Streda.
RÉSZTVEVŐK
| | | |
| --- | --- | --- |
| | Borbély Károly | festőművész, művész |
| | Gábor Béres Éva | |
| | Karczagi Endre | festőművész, művész |
| | Kelemen Benő Benjámin | képzőművész, tervezőgrafikus, művész |
| | Kurcsis Laszlo | grafikus, tervezőgrafikus, művész |
| | Lipovics János | formatervező iparművész, szobrász, művész |
| | Magyar Mónika | grafikus, művész |
| | Matusz Péter Pál | festő, művész |
| | Szőcs Géza | grafikus, művész |
| | Tóth Norbert | képzőművész, performer, művész |
| | Varga György | festő, iparművész, művész |
Publikációk
Művek
Videók